Your work force is working from home. How the hell do you buy them enough laptops when budgets are already tight/no existent?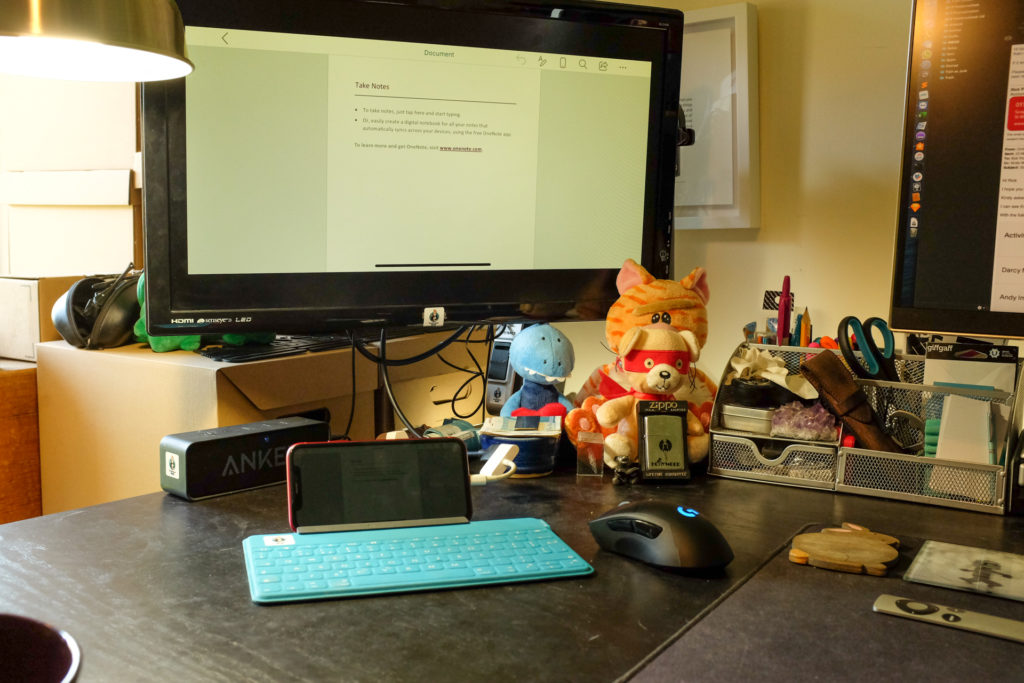 Simple, spend less than £200 per person and use their phone aka Laptop in their pocket, that happens to be a telephone.
So here is the total cost
Keyboard = £17
Mouse = £15
Apple Dongle = £49
Monitor = ~£100
HDMI cable = £5
Total setup = £186
Already got some of this? Excellent, save more money.
Don't want to buy a monitor – use your TV!
How?
With a few items of strategically picked bits of equipment. Here's how:
Keyboard:
Logitech Keys-to-go is a great keyboard due to its iOS specific keys eg. Home, Spotlight Search, Screenshot – oh and it's water proof! Great for coffee spillages
Alternatively: Keyboard link this one does the job and at ~£17 is a bargain
Mouse
The mouse I would recommend is something like this one: link to mouse
It has direct iOS support without the need for dongles. On that note, it is cheaper than buying the dongle to get your existing mouse working!! (Lightening to USB adapter is £39 and does not daisy chain through the HDMI adapter)
Monitor connection (Lightening to HDMI)
Lightening to HDMI is £49 and is hands down the most reliable I have used. You can get cheap imitations but chances are you'll replace them or increase IT support
Setup and Specifications
There is always a little bit of tech wizardry required but this is straight forward.
If you are on iOS 13.4 or later, setup as you would expect using Bluetooth.
If you are running an earlier version of iOS 13, then you'll want this:
First, make sure you have Bluetooth turned on and then:
Go to your Settings app
Press Accessibility.
Press Switch Control.
Press Switches.
Press Bluetooth Devices in the menu that pops up and then put your wireless mouse into pairing mode. Your mouse's name should show up in the menu, so tap it when it shows up.
Your mouse should connect, but keep in mind that you won't be able to use it yet if AssistiveTouch isn't turned on. If you're using a Magic Mouse 1, you'll also need to enter a PIN number, which is 0000. But otherwise it should work fine.
Now you'll want to actually TURN ON AssistiveTouch, and this is how you do it.
Open the Settings app.
Press Accessibility.
Press Touch.
Press AssistiveTouch.
Your mouse should immediately start working like a regular mouse.
---
If you have an MDM in place, this become even easier to then push out all the apps they need (Teams, Slack, Zoom, Microsoft Office, VOIP phone). Simples!
Any questions, just give me a shout. I'm your geek!